A good tear down video of a BT3100 which is very similar to the BT3000 except that it uses the thicker black shims.
Details to permanently afix your shims.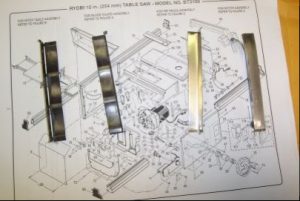 This picture shows the difference between new BT3100 shims on the left and old BT3000 shim on the right. They are not interchangeable. You can upgrade the saw to use the newer shims but you would have to find a replacement part for the guide holder (0181010110). I have heard there is mixed results with this approach.
I will make a video one of these days.
Thanks,
Tim